Signs You Need Make-Up Air
Introduction
The lack of make-up air in a building can cause serious problems. Many times the problems are not even recognized and show themselves in ways that most people do not think about. A properly designed and installed ventilation system provides environmental control by avoiding negative pressure. Uncontrolled infiltration of air through window sashes, doors and
Read More

TCF (Aerovent)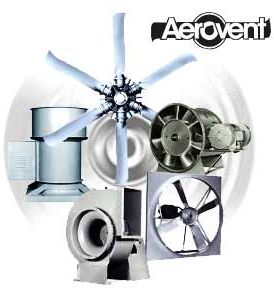 Fluid Engineering is proud to serve as an authorized representative and distributor for Aerovent, a division of Twin City Fans companies, Ltd.
Aerovent is a recognized leader in the field of air moving and ventilation equipment. Aerovent builds a wide variety of air moving equipment from propellers to complete Air Make-Up systems, but its primary business is the manufacture of heavy-duty industrial propeller fans.
Some of the markets served by its products include:
Power Generation
Paper Mills
Automotive
Warehousing
Commercial Buildings
Manufacturing
Agriculture
Oil Refining
Active research, coupled with experience and innovation, allows Aerovent to push the envelope of power and efficiency in the fan industry. Adjusting and adapting to the needs of the industry and the progress of technology have always been an integral part of the Aerovent plan.
Products
History
Aerovent, began in 1932, as Piqua Electric Manufacturing. This tiny Midwestern fabricator, which produced "aeroplane propeller" industrial fans, fought to secure a foothold in the emerging air moving and ventilation market through quality products with innovative features. Seven decades have passed and the Aerovent line has become a symbol of quality air handling equipment in every industry. Advanced engineering, accurate and dependable ratings, and fully guaranteed performance have served as a guide in the development and manufacture of excellence and serviceability.
A new manufacturing facility and a dedicated work force of highly skilled and committed employees keep Aerovent at the forefront in fan manufacturing. An AMCA registered test laboratory assures that Aerovent remains the quality leader in the field of air moving and ventilation equipment. A knowledgeable representative sales force insures that the right product is matched to each application - every time.
Manufacturing Capability
Aerovent's primary manufacturing site occupies over 145,000 square feet in Aberdeen, South Dakota. The company also has sites in Mitchell, Elkton and Brookings, South Dakota, as well as Vandalia, Ohio. These facilities utilize state-of-the-art equipment and innovative manufacturing processes, but it is the people who work there - their skill, their knowledge, and their commitment to build the best fans in the world - who make Aerovent a leader in the industry.
Aerovent has provided quality air moving and ventilation equipment for over seventy years. The highest quality materials, the most advanced equipment and techniques, and complete in-house fabrication all contribute to a product line unsurpassed in the air moving industry. Continued research and development of innovative designs also help Aerovent maintain its leader status. One example of Aerovent's commitment to development is the invention of the Macheta® tip on cast aluminum airfoil blades, featured in Aerovent Bulletin 168, "Panel and Ring Fans".
Fluid Engineering is a proud partner of Aerovent. Do not hesitate to contact the engineers of Fluid Engineering for assistance with its products and services.