Signs You Need Make-Up Air
Introduction
The lack of make-up air in a building can cause serious problems. Many times the problems are not even recognized and show themselves in ways that most people do not think about. A properly designed and installed ventilation system provides environmental control by avoiding negative pressure. Uncontrolled infiltration of air through window sashes, doors and
Read More

CECO (Fisher-Klosterman)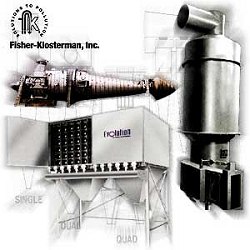 Fluid Engineering, is proud to serve as a manufacturers' representative for Fisher-Klosterman, Inc®.
Fisher-Klosterman has delivered system developed air pollution product and control recovery systems and equipment since 1948.
The line of products we offer in the Environmental Division includes Venturi scrubbers, high efficiency cyclones and fabric filter collectors. Additionally, Fisher-Klosterman delivers total turnkey installation, engineered systems and troubleshooting.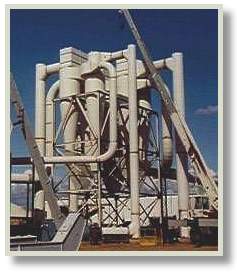 The expertise and capabilities offered through Fisher-Klosterman include providing solutions for heavy-duty applications in which corrosion, surface finishes, wear, pressure, and extreme temperature are of primary importance. If you need ASME design for "U" stamped pressure vessels, we have you covered through our collaboration with Fisher-Klosterman.
The company mission statement: "To set the standard of excellence in gas particle separation technologies", expresses the significant importance to FKI of providing world-class products and services.
Primary Products & Solutions
Industrial Cyclones leverage centrifugal force to recover, capture, or eliminate high-volume and large sized dust for industrial applications. The Fisher-Klosterman Emtrol Industrial Cyclones we offer our uniquely designed to fulfill the requirements of your applications. We offer standard and custom, complex high-efficiency cyclone designs that may be manufactured from various materials, including stainless steel, carbon steel, or any other required alloy steel.
Scrubbers are utilized for particulate and gaseous control through the use of liquids, such as water, to extract pollutants from an exhaust stream. The line of Fisher-Klosterman Emtrol brand MS Super Venturi Scrubbers we offer are designed and manufactured to function with exceptional durability and the highest efficiency, exceeding industry standards, with guaranteed performance.
Designed and built to endure some of the most challenging scrubbing applications, the Fisher-Klosterman Emtrol brand VTS Venturi Scrubber is manufactured to handle high concentration of solids and prevent wear, helping to ensure maximum reliability and performance.
Here's an example of one of our installs below: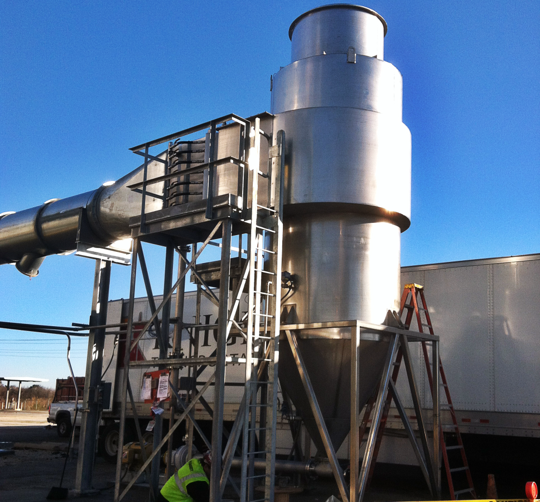 Contact Fluid Engineering today to solve your dust collection, pollution control, and product recovery problems!