Signs You Need Make-Up Air
Introduction
The lack of make-up air in a building can cause serious problems. Many times the problems are not even recognized and show themselves in ways that most people do not think about. A properly designed and installed ventilation system provides environmental control by avoiding negative pressure. Uncontrolled infiltration of air through window sashes, doors and
Read More

Seepex

Fluid Engineering is proud to serve as your local distributor for Seepex Progressive Cavity Pumps, available in the following series: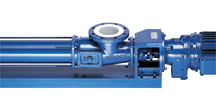 N - Standard Progressive Cavity Pump
Seepex pumps of product group N form the basic product group of all Seepex progressive cavity pumps. They can be supplied with various rotor/stator geometries (conventional, 6L and Tricam geometry) and can be used in almost all branches of industry for pumping low-viscous to highly viscous media with or without solids. Numerous application advantages ensure an especially economical application.
Flow Rate 0.132 USGPM - 2,200 USGPM
Pressure up to 720 PSI
Advantages and Characteristics
Installation capabilities in any position
Elevated, self-priming rate, including with gas-liquid or air mixtures reaching 8.5 mWS
Low pulsation, steady pumping
Delivery flow is reversible due to direction of rotation
Large-sized spherical entrance port
Seepex pumps of product group T are used for high-consistency material with low degree of intrinsic flowability or none at all. For these pumping products, the suction lift capability of a standard pump of product group N is no longer sufficient to suck them into pipings. For this reason, pumps of product group T are equipped with a feed hopper and facilities for safe product feeding. It is successfully used in almost all branches of industry to pump viscous to airtight products.
Flow Rate 0.220 USGPM - 2,200 USGPM
Pressure up to 540 PSI
Advantages and Characteristics
Pump with feed hopper and conveyor screw
Pitch and diameter of the conveyor screw is adapted to the operation conditions for optimum product feed.
Optimum solutions for various viscosities and characteristics of the conveying medium.
Numerous ranges, optionally available in block designs or with free shaft ends.
Service-friendly due to plug-in connections between rotating unit and drive.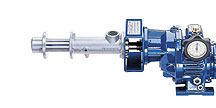 D – Dosing Pump
Seepex pumps of product group D are used for delivering and dosing small quantities in almost all branches of industry. They are especially suited for low-pulsation delivery of low to highly-viscous media as well as media containing solids and chemically aggressive media while achieving a high dosing accuracy.
Flow Rate 0.053 USGPM - 264 USGPM
Pressure up to 360 PSI
Advantages and Characteristics
Modular system enables a rapid and simple inter-conversion of various sizes available
Low-pulsation pumping
Highly accurate dosing with a deviation of ± 1%
Service-friendly with plug-in connections positioned between the drive and rotating unit
For all pumping liquids, various material combinations are available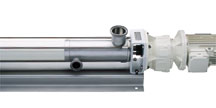 CS – Food Grade Pump
Seepex pumps of module range CS are used primarily in the food, pharmaceutics, cosmetics and chemical industry. The pumps with CIP (Cleaning In Place) and SIP (Sterilisation In Place) capabilities meet the highest requirements for gentle handling, hygiene, cleaning and sterilization and comply with the regulations of the 3-A Sanitary Standards of the USA and the EHEDG directives.
Flow Rate 0.132 USGPM - 572 USGPM
Pressure up to 360 PSI
Advantages and Characteristics
Product deposits are prevented through optimized pump housings no clearance volume
Easy-to-service due to plug-in connections between drive and rotating unit – no special tools required for mounting/dismantling
Enhanced service-friendliness through easily mountable joints
Residual-free cleaning is simplified through rotating inside parts and exceptional quality surfaces on the housing walls
FDA approved stator material and secondary seals deliver high product safety
Hygienic shaft sealing achieved through mechanical seals proven and adjusted to the particular application
Sterilization in Place (SIP) utilizing superheated steam may be used during the pump's cycled operation
Cleaning in Place (CIP) rinsing that include elevated flow rates in the suction casing enable bacteria-free and residual-free cleaning
CS range pumps adhere to the EHEDG directives and the regulations of the 3A-Sanitary Standards of the USA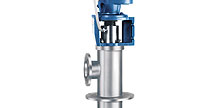 E – Semi-Submersible Pump
Seepex semi-submersible pumps of product group E are installed vertically. They pump liquids of different viscosities, which may be abrasive or even aggressive. Due to their high degree of efficiency, the low space requirements and the maintenance-friendly design, seepex semi-submersible pumps feature low operating cost and are thus a cost-efficient alternative to other pump systems. Pumps of product group E are self-priming.
Flow Rate 0.132 USGPM - 1,320 USGPM
Pressure up to 180 PSI
Advantages and Characteristics
Self-priming feature
Low pulsation, steady flow
Pumps shear sensitive products in a gentle manner
The NPSH value available can be increased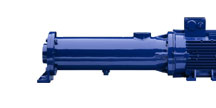 W - Wobble Pump
Pumps of product group W can be used in almost all industries. They are designed to handle liquids of all viscosities and even products with high solids contents. Due to the simple construction wobble pumps are cost effective and easy to handle.
Flow Rate Up to 44 USGPM
Pressure up to 60 PSI
Advantages and Characteristics
Non-complicated pump construction makes it economical and service friendly
Compact, short design with directly flanged drive, block design, effectively saves space
Conveying elements are rapidly exchanged as a result of rotating unit with only one joint
M - Macerator
Apart from applications in processing municipal and industrial waste waters, Seepex macerators are also used in a multitude of other branches of industry. They macerate the solid and fibrous components in the conveying medium, thus increasing the operating safety and service life of the downstream seepex pumps and other machinery. The degree of maceration can be varied depending on the flow rate, the drive speed and the shear plate design and can thus be adapted to diverse application conditions.
Flow Rate 8.8 USGPM - 660 USGPM
Advantages and Characteristics
Two ranges, each with two sizes
With the use of shear plates, controlled macerating is carried out using variable speed drives and different large apertures
Service friendly as a result of an easy replacement of the total headstock assembly developed fashioned in the shape of a cartridge
Macerators contribute to the bottom line. Use them to protect critical assets in operations where downtime needs to stay at a minimum.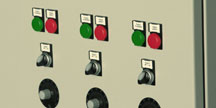 CO – Control Systems
Depending on the specific application, Seepex control systems are designed for regulating, monitoring, and controlling. Standardized modules are offered for dosing technology applications and for the protection of pumps for both running dry and overpressure conditions. In close consultation with our customers, we also provide individual control solutions.
We offer complete control cabinets in addition to individual control components. In the commissioning of control systems and processes, not only does Seepex offer planning, but also quality support.
Advantages and Characteristics
Standardized modules
Network-compatible compact controllers
Development of customised solutions
Simple integration into existing systems
Competent support with planning and commissioning
Controller for biogas plants - BGDC
Flow-regulated introduction of fermentation residue into the dosing process.
Addition of co-ferments in an adjustable ratio to the fermentation residue quantity..
Level control in the pump hopper for optimum mixing of fermentation residue and co-ferments.
Integrated protection and monitoring functions.
Level-dependent control for keeping fill levels in supply tanks constant (e.g. speed control)
Integrated protection and monitoring functions
Hygienisation and stabilisation of the sludge
Integrated protection and monitoring functions
Pressure-dependent control for conveying filtratable media in a filter press
Integration of prefilling, high-pressure and polymer pumps
Integrated protection and monitoring functions