Signs You Need Make-Up Air
Introduction
The lack of make-up air in a building can cause serious problems. Many times the problems are not even recognized and show themselves in ways that most people do not think about. A properly designed and installed ventilation system provides environmental control by avoiding negative pressure. Uncontrolled infiltration of air through window sashes, doors and
Read More

Barry Blower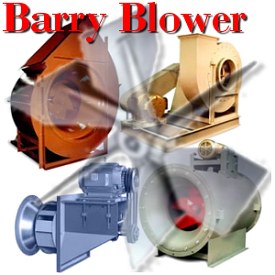 Fluid Engineering,
Proudly Represents,

Barry Blower
Air Systems Company

Material Handling Fans
Efficient Silent Inline Fans
Efficient Silent Plenum Blowers
Backward Inclined & Airfoil Fans
Stainless Steel and Alum. Fans

---
Fluid Engineering, is a manufacturer's representative and Distributor for Barry Blower Industrial Fans.

Barry Blower is a leading producer of heavy-duty fans and blowers for commercial, manufacturing, institutional and industrial process ventilation. Today, Barry Blower continues to expand and improve its product line to meet the needs of a constantly changing marketplace. Engineered for long dependable service, Barry Blower products can be found in a wide variety of applications and locations across the United States and around the world. Also, as a part of Air Systems Company., Barry offers a comprehensive product line.

Every Barry Blower product is designed and built to solve the air handling needs of its customers. But beyond that, it is people helping to solve problems, and Barry Blower remains a highly personal organization, one that emphasizes responsiveness to customer requests and an understanding of customer requirements. As a result, the Barry Blower product line is flexible enough to meet the needs of the widest range of customers while applying the most rigid measures of quality to its own products.

Barry Blower's IndustraCon

TM

Fans represent a complete line of the highest quality fans for use in all types of industrial applications. They feature:

Volumes to 60,000 CFM
Pressures to 30" WG
Inlets to 41" diameter
Wheels to 71"
Arrangements 1, 4, 8, 9, 10
Temperatures to 1000ºF
Only Barry Blower offers you all of these design, construction and performance features for:
General Material Handling (with its Type OT wheel)
Fibrous Material Handing (with its Type WT wheel)
General Air Handling (with its Type AH wheel)
Fluid Engineering's sales and applications engineers are available to offer assistance in the selection and application of IndustraCon™ fans and other equipment in the complete Barry Blower line.
---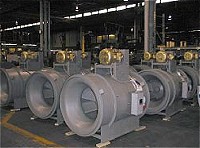 The Barry Blower ESI, Efficient Silent Inline Fan is a revolution in the fan industry. Its patented design combines the compact, high volume advantages of axial fans with the low sound, high efficiency of tubular centrifugal fans. The outstanding air and sound performance of this fan set it apart from the competition.
Its versatility allows it to compete with any vane axial, mixed flow, or tubular centrifugal fan. With the ESI Inline fan, Barry Blower brings its innovation to market and sets a new standard for performance
Efficient
The innovative wheel of the ESI discharges air at an angle from the inlet, instead of perpendicularly. This gives the fan a much higher efficiency. A significant result is the broad peak efficiency curve that allows for using smaller fans without sacrificing sound levels or horsepower.
Since the high volume to fan size ratio allows for smaller fans than other fan types (Figure 1), the ESI is also ideal for replacement and retrofit projects. Because of the high efficiency, the wheel can rotate more slowly. The low speed wheel gives the bearings over 120,000 hours L -10 (minimum) life. This is three times the typical bearing life of other axial or centrifugal inline fans.
Silent
Since the most efficient fan is also the quietest, the ESI Inline Fan excels in both measures. Because it does not sacrifice the high volume advantages of axial fans, the ESI can also take advantage of the high efficiency and low sound of tubular centrifugal fans. You get the best of both. Basically, you get more CFM for the money without a large penalty in noise.
The combination of low speed, low horsepower, low sound, extra long bearing life, and high efficiency makes the ESI Inline fan the best selection for low, medium or high static pressure inline requirements. ESI Inline fans are suitable in applications up to 160 o F airstream temperature and can be mounted horizontally or vertically. It handles CFM ranging from 1,300 - 155,000 and static pressure up to 7".
Air Performance & Sound
The outstanding air and sound performance of this fan allows it to outperform a wide range of competitors, including axial, inline centrifugal, and mixed flow fans.
Static Efficiency
The static efficiency comparison table (Figure 2) graphically illustrates the advantage of the ESI design as airflow increases. While other fan types are efficient at the "peak" of the fan curve, the ESI design maintains a very high static efficiency across a broad volume range.
For example, comparing performance at a static pressure of 2.5", a 365 ESI fan operating at 16,000 CFM has a static efficiency of 73.2%. The same fan has a static efficiency of 60.8% at 32,000 CFM. A typical mixed flow fan size 44 has a peak static efficiency of 65.4% at 16,000 CFM. However, as the volume increases to 32,000 CFM, the efficiency drops off to 17.7%
CLICK HERE TO DOWNLOAD THE ESI PRODUCT CATALOG
Barry Blower Efficient Silent Plenum (ESP)

A revolutionary unhoused centrifugal fan designed for air handling applications. The fan pressurizes the plenum in which the fan operates and allows for ductwork to be directly connected to the plenum walls of the air handling unit.

The plenum fan design saves space by eliminating the fan housing that can detract from system performance along with costly duct transitions. Plenum systems also work especially well with retrofit projects where limited space is a common problem.

ESP, Efficient Silent Plenum Fans
Construction Features
Barry Blower ESP fans are constructed of heavy-gauge, low carbon steel, phosphatized, primed and coated with an industrial air dried alkyd enamel finish prior to assembly. ESP fans are available with highly efficient, non-overloading wheels.

ESP airfoil wheels provide the highest efficiency of all centrifugal fan designs. The blades are continuously welded, die-formed, double-surface blades that provide efficient airflow into the fan. ESP airfoil wheels are available in wheel diameters from 18.25" through 89."
Air Performance & Sound
Barry Blower ESP fans offer at least a 12% increase in efficiency over the typical plenum design, while also reducing the sound levels. The table below illustrates that the improved efficiency of the ESP is fast approaching the efficiency of housed fans. In fact, the 445 ESP is more efficient than the 445 housed AF fan.

All ESP fans are statically and dynamically balanced using precision instruments. Each wheel is individually balanced and a final balance test is performed on the completed fan assem-bly. The full frame design of the ESP is especially suited for a pig-gyback motor mount design without the need to modify the fan frame.
Accessories
Variable Inlet Vanes: Two types of variable inlet vanes are available on ESP plenum fans. Nested variable inlet vanes, mounted within the fan inlet cone, are available on sizes 182 and larger. Externally mounted variable inlet vanes are bolted to the fan's inlet flange and are available on all sizes. Standard construction of both nested and external inlet vanes are suitable for operating temperatures to 180 ° F. Both types feature stainless steel rods and bronze oilite bushings. Vari-able inlet vanes are suitable for either manual or automatic control.
Protective Enclosures: are constructed of heavy-gauge plated steel wire or an expanded metal screen. Protective enclosures serve as a protective cage to completely enclose the fan wheel and support structure. Barry Blower's unique protective enclo-sure allows for greater airflow versus typical expanded mesh enclosures.
Bearings: ESP Plenum Fans are equipped with heavy-duty, self-aligning, pillowblock bearings. The standard L10 bearing life on Class I, II and III ESP fans is 40,000 hours; optional bearings are available that increase the L10 life to 80,000 hours.
CLICK HERE TO DOWNLOAD THE ESP PRODUCT CATALOG