Signs You Need Make-Up Air
Introduction
The lack of make-up air in a building can cause serious problems. Many times the problems are not even recognized and show themselves in ways that most people do not think about. A properly designed and installed ventilation system provides environmental control by avoiding negative pressure. Uncontrolled infiltration of air through window sashes, doors and
Read More

Smoot Co.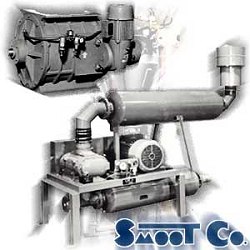 Fluid Engineering is proud to represent Smoot Company, a division of Magnum Systems, and a leading manufacturer of pneumatic conveying systems for bulk material handling.
Since its founding in the 1950s, Smoot Company has been dedicated to solving bulk material handling problems with pneumatic conveying. Smoot Co. built its reputation by solving problems that no one else could. Over the past fifty years, the Smoot tradition of hard working, reliable, and well-designed equipment has continued. Smoot pneumatic systems have been utilized in plants across the world, and product innovation has perpetuated that tradition.
Today, Smoot continues this tradition with continuing research and development of new products and innovations in material handling. It has grown to be one of the largest pneumatic conveying companies in the world, but has maintained the same values that made it successful, solving customer's problems.
Smoot is now a member of Magnum Systems. Magnum Systems is the one and only single source supplier of pneumatic conveying and packaging equipment; with over 70 years of applications, solutions, and experience. Its goal is to be your partner in solving your process problems. With the combined capabilities of Magnum Systems, Fluid Engineering can take your project from inception to installation to operation.
We have the capabilities to design systems using dilute and dense phase pneumatic conveying together or pneumatic and mechanical conveying together.
Dense Phase systems are best suited to the following applications:
Abrasive or reactive materials (requires an inert gas atmosphere)
Fragile material that would be damaged by the high conveying speeds in dilute phase conveying
Material is conveyed over long distances at high rates batch weighing of powdered materials
Common uses for Dilute Phase Systems:
PD truck and Rail Car Unloading
Efficient clean dry bulk material transfer, feeding and loading
In addition to complete systems, Smoot Co. produces a complete line of components for pneumatic conveying systems, including:
a complete line of diverter valves (including slide, hopper top, and gravity flow types),
Couplings,
Tubing and piping,
Elbows,
Wyes, tees, and laterals,
rubber hose,
And any other components that constitute a dense or dilute phase pneumatic conveying system