Signs You Need Make-Up Air
Introduction
The lack of make-up air in a building can cause serious problems. Many times the problems are not even recognized and show themselves in ways that most people do not think about. A properly designed and installed ventilation system provides environmental control by avoiding negative pressure. Uncontrolled infiltration of air through window sashes, doors and
Read More

Fybroc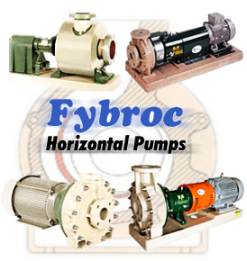 Fluid Engineering is the proud distributor of Fybroc fiberglass centrifugal pumps for all of Alabama and the following counties in Florida: Escambia, Santa Rosa, Okaloosa, Walton, Holmes, Washington, Jackson, Bay, Calhoun, Gulf, and Liberty.

Fybroc manufactures ANSI process, self-priming and sealless mag-drive horizontal end-suction centrifugal pumps as well as vertical centrifugal sump pumps and cantilever sump pumps.

The Fybroc Advantage lies in its 35-year commitment to nonmetallic pumps and a continual spirit of innovation worthy of its title as the first manufacturer of fiberglass-reinforced pumps. Fybroc is the first manufacturer to adopt the resin transfer molding (RTM) method for production of its fiberglass-reinforced castings.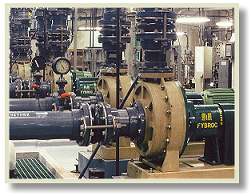 The major advantage of this process is that it allows for controlled placement of long strand fiberglass reinforcement in high stress areas providing components with excellent physical properties, allowing the design of thinner-walled structures, permitting the use of nearly pure resin systems for optimum corrosion resistance.

Ordinary compression molding methods, however, utilize chopped glass random reinforcement that provides comparatively lower strength characteristics. In addition, the inherent physical properties of this technique and the exothermic properties of the highest quality resins force the inclusion of large amounts of clay filler in the bulk molding compound. These fillers detract form the corrosion resistance of the base resin and certainly add no strength.

While the compression molding approach sacrifices both corrosion resistance and strength, the RTM method optimizes both.

Fybroc pumps include many other innovations that are industry firsts. Contact your Fluid Engineering sales or applications engineer today to learn more Fybroc fiberglass pumps.



Markets Served


Fybroc pumps have been used extensively to pump corrosive liquids in the following markets and applications.

Acid Producers
- Hydrochloric acid
- Sulfuric acid (high concentration)

Aquariums/Zoos
- Salt water

Chemical Process
- Acids
- Chemical waste
- Solvents
- Waste water

Desalination/Water Reuse Plants
- Filtration
- Reverse Osmosis
- Brakish Water
- Seawater In-take
- Chemical Transfer
- Concentrated Brine

Electric Utilities
- Coal pile run-off
- Lime slurry
- Stack wash
- Top ash

Electronics
- Acids
- Chemical waste
- Solvents

Petrochemical
- Acids
- Chemical waste
- Solvents

Pharmaceutical
- Organic Solvents

Pulp and Paper
- Bleach
- Spent acid
- Tall Oil
- White liquor

Mining
- Abrasives
- Acid waste
- Corrosives

Scrubbers/Odor Control
- Abrasives
- Acids
- Caustics
- Corrosive chemicals

Metal Finishing
- Chromic acids
- Pickling acids
- Plating solutions