Beyond the Broom
The sweeping or blowing of fugitive dust during housekeeping is widely discouraged by the Occupational Safety and Health Administration (OSHA) and the National Fire Protection Association (NFPA).  Though seemingly benign, dust can create an assortment of hazards, ranging from ergonomic injuries and flying particles that can lead to eye injury to more serious respiratory and explosion hazards. 
Read More

Industrial Air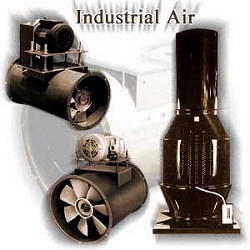 Fluid Engineering,
Proudly Represents,

Industrial Air
Air Systems Company

Tubeaxial & Vaneaxial Fans
Wall and Roof Fans
Mancooler Fans
Fiberglass Fans
Bifurcator Fans


---
Fluid Engineering, is a manufacturer's representative for
Industrial Air
®
and its line of heavy-duty air moving equipment.
Industrial Air, a division of Air Systems Company, provides a complete line of industrial fans, including:

Bifurcator Fans
Direct-driven fans that isolate the motor from the product air stream, allowing the fan to handle temperatures as high as 1000ºF.
Steel and Stainless Steel Construction
Capacities to 86,000 CFM

Hooded Roof Ventilators
Direct Drive Belt Drive
Steel, Aluminum, Stainless Steel Construction
Intake and Supply. Filtered
Capacities to 224,500 CFM

Fiberglass Fans
Belt drive
Axial and Centrifugal
Capacities to 250,000 CFM

Mancoolers
Direct Drive
15" through 36"
Steel, Aluminum, and Stainless Steel Construction
Capacities to 22,000 CFM

Panel Fans
Direct Drive
Belt Drive
Sizes 12" through 96"
Steel, Aluminum, Stainless Steel Construction
Capacities to 323,000 CFM

Roof Ventilators
Direct Drive
Belt Drive
Steel, Aluminum, Stainless Steel Construction
Temperatures to 1000 DegreesºF
Capacities to 200,000 CFM

Tubeaxial Fans
Direct Drive
Belt Drive
Sizes 12" through 96"
Steel,Aluminum,Stainless Steel Construction
Capacities to 256,600 CFM

Tubular Inline Centrifugal Fans
Belt Drive
Steel,Aluminum,Stainless Steel Construction
Capacities to 104,000 CFM

Vaneaxial Fans
Direct Drive
Belt Drive
Steel,Aluminum, Stainless Construction
Capacities to 80,000 CFM